A recent lawsuit was filed in California over a known Carcinogenic substance found to be used by many leading manufacturer's of hair shampoo and conditioner.
When the Center for Environmental Health based in Oakland, California performed an analysis on shampoos and soaps, they found that at least 98 included a carcinogen known as cocamide diethanolamine (cocamide DEA).  
This coamide diethanolamine is a chemically-modified form of coconut oil used as a thickener or foaming agent in many products, and is a known carcinogen.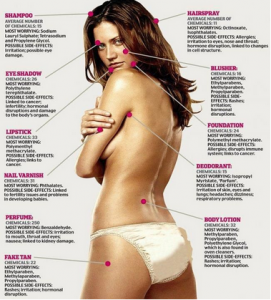 Listed below are the 98 products that have, to some degree, lied to the consumer by violating a law that prohibits the use of this known carcinogenic.
The sad truth about this: The FDA allows manufacturers to put any toxic chemical they desire to into shampoos because it may be deemed necessary. For this reason alone – it is YOUR JOB as a consumer to be aware of what you are putting in your mouth and/or on your body.
If I were you, I would immediately stop using the brand of shampoo below. I would also write the company a personal letter that you are also informing everyone in your circles of this violation. Soon a total boycott of this product will follow.
If you are uncertain about what kind of damage you may be doing to your body, watch this video about what Dr. Darrell Wolfe says about toxins. It is an informative video. Please Watch!
BEWARE AMERICA!
PRODUCT

BRAND NAME

COMPANY

RETAILER

Classic clean shampoo (for all hair types)

Prell

Ultimark Products

Walgreens

Medicated Conditioning Shampoo

MG217

Lake Consumer Products

Rite Aid

Daily Shampoo

American Crew Classic

American Crew

CVS

Olive Oil Shampoo

Organics by Africa's Best

House of Cheatham

CVS

Caprice (Acti-Ceramidas Shampoo

)

Palmolive

Colgate-Palmolive Co

FoodMaxx

Mane 'n Tail Shampoo

Straight Arrow

Straight Arrow Products

FoodMaxx

Climate Control Defrizzing Shampoo

Ouidad

Ouidad Products

Sephora

TUI (moisturizing sulfate-free shampoo)

Carols Daughter

Carols Daughter Products

Sephora

Brilliance Shampoo

Rusk

Rusk

CVS

Kid's Bubble Bath (Bubble Gum Scent)

Little Ones/Kmart

Kmart

Kmart

Clasic Herbal Essence Shampoo (all hair types)

Vanart

Made by Estilo Y Vanidad, Distributed by Midway Importing

Kmart

Therapeutic Anti-Dandruff Shampoo

TopCare

Neutrogena Corporation

Lucky

Cleanse Hydrating Shampoo

BIOSILK

Farouk Systems

Lucky

Maximum Strength Medicated Dandruff Shampoo

Equate

Walmart

Walmart
To Detox Yourself from these Cancerous products, download my FREE Book "The Ultimate Detox Guide"
Awapuhi Ginger Shampoo
Organix
Vogue International
CVS
"Ricitos de Oro" Chamomile Baby Shampoo
Grisi
unknown
Walgreens
Cabellino Shampoo Chile Con Romero
Grandall
Grandall Dist. Co
Kmart
Dandruff Shampoo Selenium Sulfide
Image Essentials
Kmart
Kmart
Nutress Hair Protein Pack Treatment Shampoo
nutresshair
nutresshair
Glamour Beauty Supply
Treatment Curly Hair Moisturizing Shampoo Keratin and Cupuacu Butter
nuNAAT
nuNAAT
Glamour Beauty Supply
Luxury Care 3 Plus Frizz Control Shampoo
Luxury Care
Lustrasilk
Glamour Beauty Supply
Anti Breakage Neutralizing Shampoo Gel
Mega Growth
Strength Of Nature
Glamour Beauty Supply
Tea Tree Special Shampoo
Paul Mitchell
John Paul Mitchell Systems
Glamour Beauty Supply
Plant Extracts & Moroccan Argan oil Dry, Itchy Scalp Shampoo Controls Dandruff
At One With Nature
BioCare Lab
Glamour Beauty Supply
Gentle Cleansing & Conditioning Shampoo Aromatic Natural Essences pH balanced
Calm Cleanse
Johnson Products Co.
Glamour Beauty Supply
Hair Polisher Shampoo with "Sparkle Lites"
Fantasia
Fantasia Industries
Glamour Beauty Supply
African Essence Neutralizing Shampoo Plus Proteins and Conditioners
African Essence
Universal Beauty Products
Glamour Beauty Supply
VIA Natural Style Moisturizing Shampoo
VIA
Universal Beauty Products
Glamour Beauty Supply

Fair Trade Honey Shampoo

Lush

 




Lush

 




Lush

Sunflower & Coconut Detangling Conditioning Shampoo
Crème Of Nature
Colomer USA
Safeway
Medicated Shampoo Slednium Sulfide Dandruff Shampoo
up&up
Target
Target
Salon Shampoo (for Extra-Dry Hair)
Parnevu
Advantage Research Laboratories
Lynas Beauty Depot
Shea Butter Shampoo
Sofn'freen'pretty
M&M Products Company
Lynas Beauty Depot
Conditioning Shampoo
Luster's Pink Brand
Luster's Product
Lynas Beauty Depot
Coconut Oil Formula Conditioning Shampoo
Palmer's
E.T. Browne Drug Co.
Lynas Beauty Depot
Neutralizing Shampoo (With DL Panthenol)
Vitale
AFAM Concept
Lynas Beauty Depot
Extra Moisturizing Hand Wash
Dermasil/Rise International Group LLC
Rise International Group
99 Cent Only Stores
Moisturizing Shampoo with Panthenol (Placenta & Vitamin E)
La Bella
Newhall Laboratories, Inc.
99 Cent Only Stores
Despicable Me Hand Wash (tickled pink rose bonbon)
Delon Laboratories
Delon Laboratories
99 Cent Only Stores
Tingling Gro Shampoo with Flaking Control
Doo Gro
Nature's Protein
Sally Beauty Company
KeraCare  Anti-Dandruff Moisturizing Shampoo
KeraCare
Avalon Industries, Inc.
Macy's
Dandruff Moisturizing Shampoo
Folicure
Alberto Culver USA
Sally Beauty Company
Mixed Berry Anti-Bacterial Foaming Hand Soap
Simple Pleasures
Tri-Cosatal Design
Kohl's
Vanilla Rose Bubble Bath
Simple Pleasures
Paula Scaletta Licensed to Tri-Coastal Design
Kohl's
berry burst shower gel
scentsations by bodysource
Made Especially for Kohl's Department Store
Kohl's
Lemon Handwash  Gift Set
Brompton and Langley
unlisted
Sears
French Lavender Hand and Body Wash Gift Set
Amelie's Garden
unlisted
Sears
Moroccanoil Extra Volume Shampoo
Moroccanoil
Moroccanoil
Blooming Beauty
Julius Caesar Redreshing Citrus Scent Concentrated Shower Gel
Zirch Warrior Collection
TPR Holdings LLC
Marshalls
I love Vanilla & Ice Cream Bubble Bath and Shower Gel
I love…
I love cosmetics limited
Ross
Coconut Lime Handsoap
Pure Passion
Biolab International Inc.
Ross
Lalaloopsy Cotton Candy Bubble Bath
Lalaloopsy
Added Extras
Ross
Super Minty Soapy Suds Body wash + Bubbling Bath
Bliss
Bliss
Ross
Olive & Shea Mositurizing Shower Wash Vanilla Spice
Tree Hut
Naterra International
Ross
Organic Cleanse Deep Cleansing Shampoo with Oatmeal Protein
 Design Essentials
McBride Research Laboratories
JC Penny
 Moisturizing Shampoo for all hair types
Body Time
Body Time
 Body Time
Lemon Kitchen Hand Soap
Trader Joe's
Trader Joe's
Trader Joe's
All Natural moisturizing Shower Gel Yuzu
ShiKai
ShiKai Products
Andronico's
2 in1 Shampoo and Conditioner
Toys R Us
Toys R Us
Babies R Us
 Body Wash ylang ylang & ginger
Pharmaca
Pharmaca
Pharmaca
avocado oil moisturizing shower gel
Australian Organics
Kent Cosmetics
TJ Maxx
Lemon Balm White Musk Hand Wash
D&H Australia
Dickens  & Hawthorne Australia
TJ Maxx
Eucalyptus Aloe Hand Soap
CST
CST
TJ Maxx
Honey B Crème Handwash
Scottish Fine Soaps
Scottish Fine Soaps Company
TJ Maxx
Enriched wtith Argan oil Restorative Shampoo
Beauty Products Mgoador
Chic Cosmetic Ind.
TJ Maxx
White Nectarine & Pear Cleansing Hand Wash
Boutique
Grace Cole Co.
TJ Maxx
 Lavender Conditioning Handwash
Brown & Harris England
HotHouse Partnerships LTD
TJ Maxx
 English Rose Moisturizing Hand Wash
A & S
Asquith & Somerset
TJ Maxx
Best Face Forward Daily Foaming Cleanser
Formula 10.0.6

 

Aspire Brands
Ulta
Revitalizing Rosemary Mint
c. Booth simple. Natural. Trusted.
Freeman Beauty Labs/ pH Beauty Labs
Ulta
Advanced Volume Shampoo with Expansion
Nick Chavez
Perfect Plus
Ulta
Bubble Bath Calm One with lemon balm
Calm All
The Soap & Glory Cosmetics
Sephora

Lemon Basil Shea Butter Hand Soap

Michel Design Works

 




Michel Design Works

 




Bristol Farms

Philip B. Peppermint & Avocado Volumizing and Clarifying Shampoo
Phillip B.
Phillip B., inc
Bloomingdale's
Lemon Verbena Hand Wash Gel
Accessory Zone
Accessory Zone
Sears
Mango Body Wash
Boots
The Boots Company
Target
Citrus Blush Shower Gel
Champneys
Boots Retail
Target
White Tea and Ginger Neutralizing Shampoo
Ampro/Pro Styl/ Neutra Foam
Ampro Industries
Lucky
Lychee Flower Hand And Body Wash
Mor
Mor
Nordstrom Rack
Zinc Shampoo
DHS
Person & Covey Inc.
hairenvy.com
Bubble Bath Sweet Water
RRYSpa
RRYSpa
burlington coat factory
Skinny Girl Shower Gel Margarita
Skinny Girl
Lotta Luv
burlington coat factory
Peppermint Bubble Bath
Elegant Home Design
Elegant Home Design
burlington coat factory
Apothecary Lemon Verbana Bath and Shower Gel
Apothecary
International Design Associates
burlington coat factory
French Lavender Cleansing Hand Wash
Baylis & Harding England
Baylis & Harding PLC
burlington coat factory
American Crew Classic Daily Shampoo
American Crew
American Crew
Saks Fifth Avenue
Herb Hand Soap
Daiso
Daiso Industries
Daiso
Hair Plump Volumizing Shampoo
Big & Bold
Fisk Industries
Beauty Parlor
Blondes Lemon flower shampoo
ARTEC
ARTec Systems Group
Beauty Parlor
Rejuvi Shower Cream
Rejuvi
Rejuvi Laboratory Inc
Dermstore.com
The Revitalizer Body Wash (Cucumber + Grapefruit)
Portico
Portico Home + Spa
Dermstore.com
Colour Protecting Caviar Shampoo
Kelly Van Gogh
Kelly Van Gogh LLC
Dermstore.com
Walnut Body Scrub
Banzai Living Inc
Banzai Living Inc
Ichibankan
Clear Lemon & Mint Body Soap
Aroma Resort
PMAI
Ichibankan
Bath/Shower Gelee with Green Tea and Aloe
Dr. Michelle Copeland
Dr. Michelle Copeland Skin Care
Dermstore.com
Lavender Shower Gel with cucumber, arnica, and aloe vera
elizabeth W san francisco
E Wightnan & Co
Dermstore.com
Last Chance To Detox Yourself from these Cancerous products, download my FREE Book "The Ultimate Detox Guide"